Basic Info
Model No.: EJH-14-300-330
Product Description
Introduction
Metal detector for rubber recyling industry 
  EJH-D300 Series digital style of intelligent metal detectors, using kinds of the most advanced electronics, Adopt electromagnetic detection and DSP,DDS and many other digital signal processing technology.
  Comparing with traditional simulation detector , the function is more completely , the capability is more stable and dependable. It's specifically for food, medicine, chemicals, rubber and metal needs detection of application-specific design occasions. Particularly suited to tobaccos, toys, footgear, cosmetics, lavation products, plastics, leathers, building material and other industries. It accord with the demand of certification-HACCP, QS, ISO9000.
Feature
1. Simple operation menu, all settings and using are simple and convenient without any adjustment for operators.
2. All the equipment parameters of detection are locked automatically, when use it, you can just place the product that needs detected on the conveyors, then the system of detection will recognize automatically.
3. It can detect the iron, stainless steel, copper, Al and all kind of metal chips which mixed with products, as well as, some of non-metal that transmitting electricity and magnetism.
4. Can record up to 15 kinds of different products, parameters of detection and the most simple operation is replacement of different products occasions frequently.
5. The style of conveyors is opening and unloading structure, for day-to-day cleaning.
Widely using scope
1. Apply to food (including aquatic products and quick-frozen food, extruded food, salted foods etc..) pharmaceuticals, plastic, chemicals textiles and other occasion that need metal detection.
2. Apply to high temperature, low temperature(minus twenty degrees), damp, dry, dust, dew and other poor work environment.

High sensitivity detection
1. using the detection circuit with specially high-performance design and with advanced digital signal processing algorithms. The actual detection proved that it reached the most advanced international level.
2. against the variety of detector products , with the learning functions of automatic identification. Overcome the effect of products material efficiently.
3. detection probe is designed specially and improved the detection sensitivity further. Improve the detection sensitivity.
Good stability
1. Adopting DSP, DDS and many other digital technology to process testing signal. Comparing with traditional simulation detector , it has the advantage of universal function, stable capability, high credibility.
2. Timber known, fine craft, solid structure, good-looking in appearance, durability.
3.main structure adopted international SUS304 manufacturing, the sandblasted surface treatment, good corrosion resistance, good-looking and easy to clean.
Performance
Detection style: digital intelligent with LCD display
Language : Chinese, English,
Motor power: 200w/400w
The main material: SUS 304
Specification parameter: 
| | | | | | |
| --- | --- | --- | --- | --- | --- |
| Dimension of window | 25cm×8cm | 30cm×10cm | 40cm×15cm | 50cm×20cm | 60cm×30cm |
| Sensitivity Fe: | ≥0.5mm | ≥0.6mm | ≥0.7mm | ≥1.0mm | ≥1.2mm |
| SUS304: | ≥1.0mm | ≥1.2mm | ≥1.5mm | ≥2.0mm | ≥2.3mm |
Speed of transmission: 18-40 meter/minute
Normal height of inspection window(cm):10
Normal width of inspection window(cm):50
Alarm: Audible and visual with automatic stop can install with the auto-rejection equipment according customer's requirement.
Power: AC110V/220V/380V 50/6 0Hz.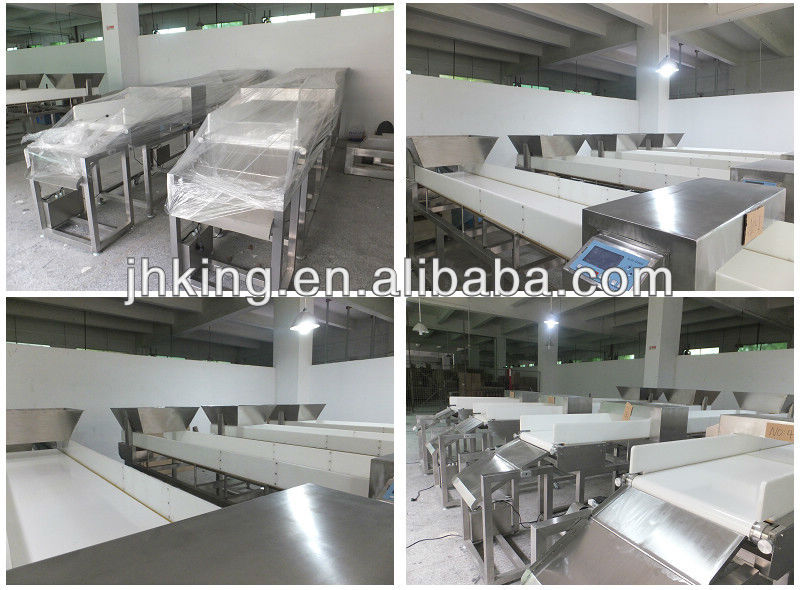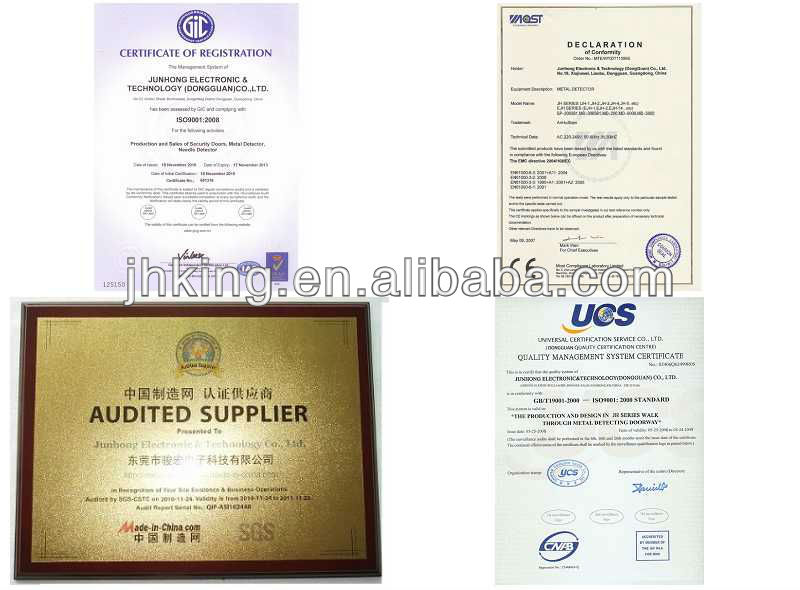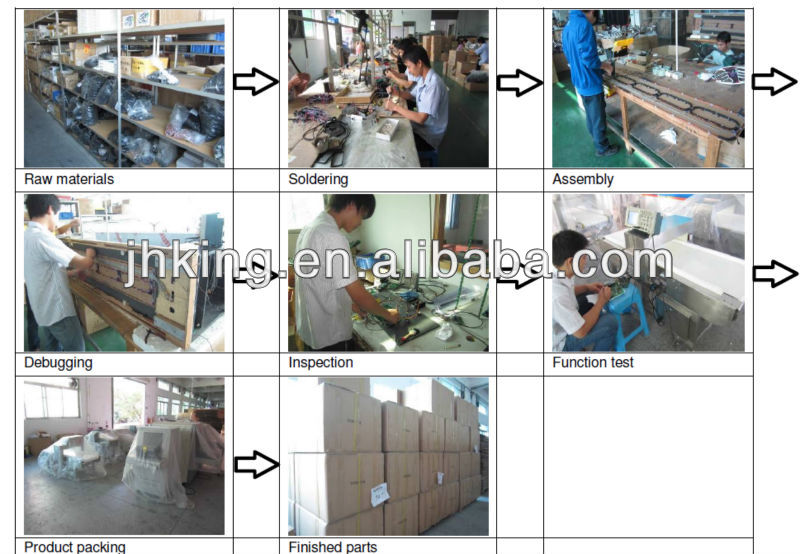 Product Categories : Industry Needle&Metal Detector > Industry metal detector