Product Description
Specification:

1). Detailed Product Description Aluminum handles extend from 42 to 51.

2). 6 styles from which to choose from.

3). Available in 12" round convex or flat acrylic mirror.

4). Equipped with adjustable swivel for infinite adjustment.
5). has a heavy-duty extruded rubber rim to help prevent damaging objects when maneuvering.
6). Available with tripod ball bearing caster wheels, allowing full range of motion with effortless maneuvering.
7). Lightweight with adjustable handle.
8). Low 3.5" ground clearance.
9). Available with flashlight, batteries and mounting bracket.
10). for indoor or outdoor usage.
Under Vehicle Search Mirrors 
1. Acrylic convex mirror
2. Easy operation. 
3. Clear & enduring
4. Guaranteed quality 
5.Optional aluminum box
1. Equip mainly be use for the police, security personnel
2. It is very simple to use.
3. The surface of the mirror is very clear, adopt the special material
4. mirror size: diameter 30cm
5. Equipped with adjustable swivel for infinite adjustment
6. Available with flashlight, batteries and mounting bracket
7. Safe (Not glass mirror) Mirror Available in 12" round convex or 
flat acrylic mirror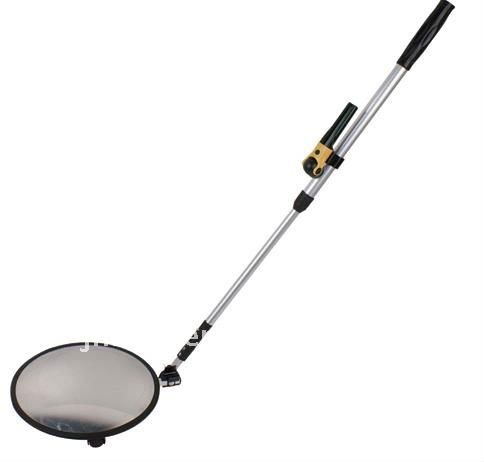 Product Categories : Under Vehicle Inspection System > Under Vehicle Search Mirror