Best x-ray inspection system food detector EJH-XR-4016
Product Description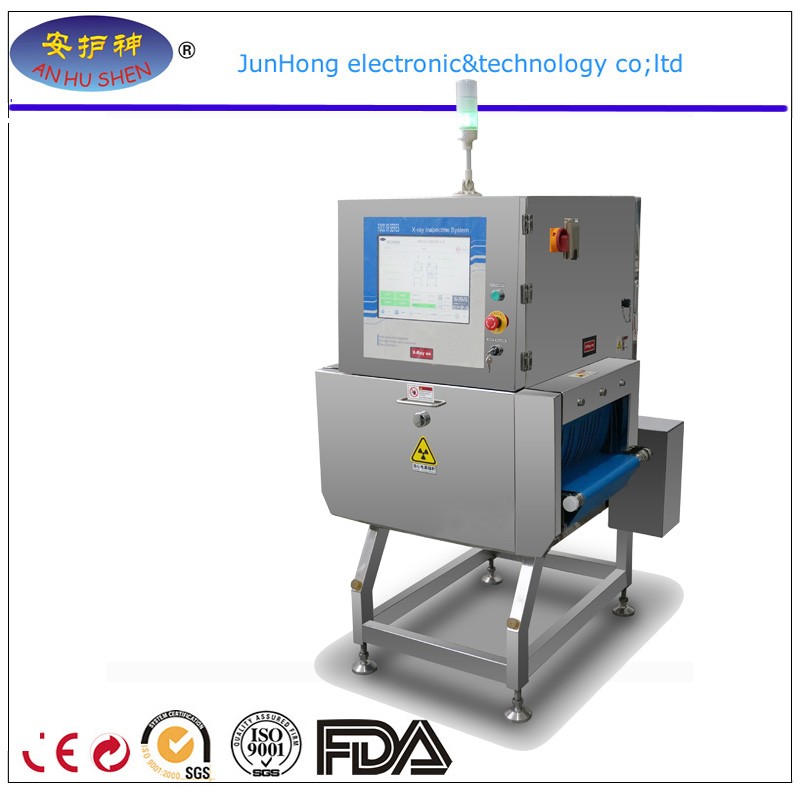 Detection description:
1. Machine Detection Principle:
First acquire an products transmission images by x-ray irradiation, then judge if any foreign objects is contained in the product image, by using image processing technique
2. Detection Range of Products:
All kinds of products without limit to packaging, packaging materials, includes items such as plastic wrap, aluminum foil packaging, glass jars, metal cans and bulk products
3.Foreign objects detection range:
Denser materials, including metal and non-metal, such as stainless steel, iron, ceramics, glasses, stones, bones, hard rubber, hard plastic and so on. (Specific circumstances may vary on different product)
Absolute Advantage
<![if !supportLists]>1)    <![endif]>Full detection range:
Full range of foreign objects detection, including metal, non-metal in unlimited types of products.
Metal packed, Nonmetal packaged and canned products can be inspected.
<![if !supportLists]>2)    <![endif]>extremely high sensitivity:
High sensitivity up to 0.5mm mm diameter stainless steel ball, 0.3mm*2mm stainless steel wire,
1.5mm diameter ceramic balls and 1.5mm mm diameter glass ball,
<![if !supportLists]>3)    <![endif]> easy to operate: 15-inch touch-screen display, easy interactive software comes with self-learning function, without requiring users to manually set parameters, reducing user's operation difficulty;  detection images can be saved automatically for future analysis and tracking.
<![if !supportLists]>4)    <![endif]>Auto-shielding: To meet product detection demand, shielding zones are available for certain zones which may reduce detection sensitivity in order not to lower overall sensitivity. Take aluminum buckles on both ends of sausage as an example: aluminum buckles can be shielded and not considered as foreign object in detecting, thus sensitivity of the left area won't be affected.
<![if !supportLists]>5)    <![endif]>High adaptability: the machine is equipped with industrial air conditioner; detection is not affected by environment temperature and humidity.
<![if !supportLists]>6)    <![endif]>Security protection: the x ray leakage meets the standards of U.S FDA and ,European CE, it is less than 1μSv/hour; both hardware and software are designed with a complete security measures. Machine condition is being monitored all the time; leakage accident by mal-operation can be prevented. For example, in case the door is opened, the machine will automatically and immediately stop X-ray irradiation.
<![if !supportLists]>7)    <![endif]>Quality assurance: the main components such as x ray source, x ray detector, motor, frequency transformer etc all are imported from well-known oversea brands to ensure the overall performance and service life of the machine.
<![if !supportLists]>8)    <![endif]>Quality Certification: CE certification, exported to Europe, North America, Africa and other regions.
Product Categories : Food Metal Detector > Food X Ray Machine